Texas APA Project Planning Award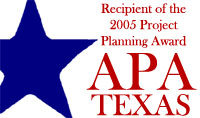 The 2005 Downtown Navasota Parking Study was recognized with the Texas APA Project Planning Award. The award recognizes "outstanding plans or studies addressing a specific project, area, or issue in a town, city, or region." The Study was a follow-on project to the 2004 Navasota Comprehensive Plan. Citizens, business owners, and government officials desired an objective and statistically based analysis of the parking situation in the Downtown District. Geographic Information System (GIS) based analysis was conducted on parking activity statistics collected over several months by Butler Planning Services. This analysis revealed interesting trends and conditions relating to overall occupancy, parking space turnover, and employee parking habits.
Central Texas APA Student Project of the Year
The 2004 Navasota Comprehensive Plan was recognized by the Central Texas section of the American Planning Association with the Student Project of the Year Award for 2004. The award is "given to an outstanding research or planning project by an individual or team of students in an accredited graduate program." Butler Planning Services principal planner Christopher Butler was employed by Texas A&M University as the plan's Project Manager and GIS Coordinator. Butler Planning Services contributor Robin Stover also worked as Lead Editor on the project.